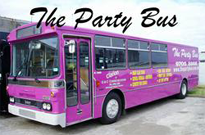 Transport to and from Venues
The Party Bus has been the chosen mode of transport for young formal goers and debutantes for over 18 years. Providing transport to and from the venue, or acting as THE after party venue.
We can transport you and your group, on one of our many party buses, to your deb or formal venue and return after the event if required.
Our buses range from Single to Double Decker party buses, therefore all size groups are catered for.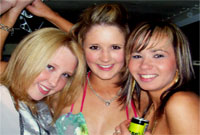 The Party Bus After Party
The Party Bus is the ultimate celebration machine. You will party the night away on board one of our Double Decker Party Buses (seats 60 passengers) or a bright coloured Single bus (seats up to 43 passengers).
With a high-powered sound system, CD stacker, MP3 player, IPod/IPhone, club forward facing or perimeter seating, coloured lighting and the latest music pumping through the speakers – our huge fleet of party buses are like nightclubs on wheels - you won't want to leave.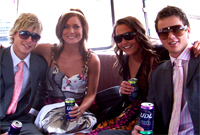 A Celebration to Remember!
Your night will be MC'd by a highly experienced party host, who'll ensure everything goes just right and at the end of the night, we'll drop you back home.
Get your friends & partners together and have the time of your life.
The Party Bus has been assisting dedicated partygoers now for over 18 years and would love the opportunity to take you and your friends on a night out they will long remember.